Cambridge Audio Minx Air 200 Powered speaker with Apple® AirPlay® and Bluetooth® - White
The Cambridge Audio Minx Air 200 is a high-performance audio system that can play music from just about any source. Stream tunes to it from your iPhone®  via AirPlay. Or do it with Bluetooth from your Android smartphone or tablet. The Minx Air 200 can connect to your Wi-Fi® network and serve as your Internet radio tuner. Or it can make a great sound bar for simple TV/Blu-ray setup.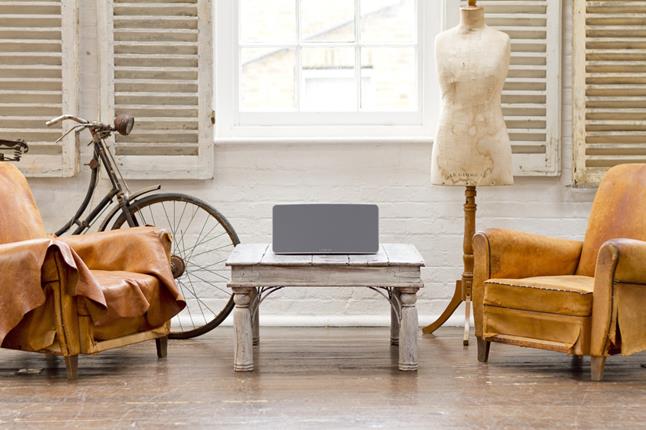 The Cambringe Audio Minx Air 200 fits in with almost any décor.
Deep, rich sound
The Minx Air 200 features a rigid, one-piece cabinet that minimizes unwanted vibration and rattle. Two 2-1/4" Balanced Mode Radiator full-range speakers disperse the audio across a wide soundstage. A 6-1/2" front-firing subwoofer ensures solid bass. And with a 200-watt amplifier, the Minx Air 200 can really pump up the volume.
An advanced 24-bit digital signal processor (DSP) ensures the incoming audio stream is decoded as accurately as possible, retaining all the detail of the source material. You'll enjoy clean, detailed sound with the low end nicely filled out.
High-fidelity Bluetooth
The system features aptX® audio coding, an advanced type of Bluetooth wireless streaming that retains virtually all the detail of the audio signal it carries. It also is compatible with AAC Bluetooth, which enhances the quality of transmission from compatible devices such as Apple portables, iTunes®, Nintendo DSi, BlackBerry phones, and more.
And if your Bluetooth device doesn't have aptX or use AAC Bluetooth, don't worry. The Minx 200 is also backwards-compatible with earlier forms of Bluetooth. So you can wirelessly stream your music from almost any portable device and still enjoy great sound.
"Rarely do you come across a wireless speaker capable of handling both Airplay and Bluetooth, along with booming bass extension and stellar mid-range. Cambridge Audio's sound blaster accomplishes it all and packs everything into a clean-designed enclosure that speaks to luxury home audio enthusiasts."

— The Best Gadgets of 2013 (So Far) Complex.com, June, 2013
---
The convenience of Apple AirPlay
Apple AirPlay technology lets you wirelessly connect your iPhone, iPad, iPod touch® or computer running iTunes® to the Minx Air 200 via your Wi-Fi® network. Stream audio from your Apple portable directly to the system. Or stream music from the iTunes library on your laptop or desktop computer and use your Apple portable as a remote to make selections, as well as adjust volume. (Requires Apple's free Remote app.)
Wired playback options
Use the stereo minijack auxiliary input to connect other non-Bluetooth portables to the Minx Air 100. And with the RCA stereo inputs, you can connect a small TV or a Blu-ray player and create a mini home theater system for den or bedroom. The Minx Air 100 also has an Ethernet port so you can hardwire it to your home network and explore the world of Internet radio. And you can use the system's remote in place of your portable to control the Minx Air 200.